AroniBlog
Updates on AroniSoft Products and the Financial Markets
AroniSmartIntelligence™: BigData, Unstructured Data, Text Mining, and Bayesian Network Models
Ar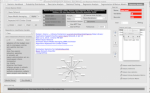 oniSmartIntelligence™, arguably the most advanced Statistical and Data Mining built exclusively for Mac OS X, has become even better. AroniSmartIntelligence™ fans around the World have been waiting for new capabilities to be able to harness the opportunities offered by new technologies, using the power of AroniSmart™ tools.
The wait is almost over... and it was worth it. In the version of AroniSmartIntelligence™ that will be available to our customers in the near future, new advanced capabilities have been included. Let us talk about these capabilities:
AroniSmartIntelligence™ and BigData
Big Data has been here and exploding. Businesses, groups, individuals, and the society in general have been slowly adjusting to the new trend in technology, data mining and analytics adapted to the needs of Big Data. AroniSoft LLC, with its AroniSmart™ line of technology and analytical tools and methodologies, has been working to make sure our customers will be able to harness the benefits offered by Big Data. In our previous blog, we covered what BigData is and its benefits and how our tools have been readied (see our article here)
AroniSmartIntelligence™ and Bayesian Network Models and Unstructured and Text Mining
The new version of AroniSmartIntelligence™, to be available soon, has a module dedicated to BigData: Bayesian Network Models and Unstructured Data and Text mining. The module is dedicated to analyzing text data and discovering network relationships among different variables and attributes. The module includes several Bayesian Network models, estimators, and algorithms to deal with unstructured data. AroniSmartIntelligence™ models have been optimized for the needs of BigData analytics.
To support text and unstructured data mining, a Text processing capability has been added in the Descriptive Analysis module. The new AroniSmartIntelligence™ allows the analyst to load plain text from various sources, organized in folders and sub-folders and create a dataset in "Aroni" format, to be processed in the Bayesian Models, Regression Analytics, or Segmentation modules
Start counting days. The wait is almost over.
©2014 AroniSoft LLC. All Rights Reserved.
Last modified on
Trackback URL for this blog entry.