Updates on AroniSoft Products and the Financial Markets
Featured
AroniSmartInvest in Action: Wal-Mart (WMT) Stock Sustained Momentum over 2019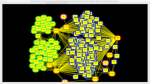 In June 2017, AroniSmartInvest In Action, based on the analysis with AroniSmartInvest, predicted that Wal-Mart stock had started a momentum expected to accelerate for the rest of 2017 and 2018. AroniSmartInvest in Action projections were based on the several factors, that we will revisit shortly. In July 2018, AroniSmartInvest In Action reconfirmed the trends.
At the time, Wal-Mart stock (NASDAQ: WMT) had been soaring. June 2017 Year-to-date (YTD), the stock was up 15%, from $69.12 on Dec 30, 2016 to $79.36 on June 9, 2017 and 22% up since February 2017.
What happened then to the stock momentum.
Immediately after AroniSmartInvest team's predictions, the stock started a strong rally. By October 2017 it rose to $88.48, or 17%. In November and December 2017, the stock reached $99.62 or 31% and by January 2018, it had peaked to $109.55 or 44%. It then, like the entire stock market, started a downward movement. When AroniSmart In Action confirmed the trend in July 20, 2019, the stock price was $88.00, or around 16% growth, since June 2017. By the end of Summer 2019, Walmart stock is trading at $114.69, or 65% increase since the initial sentiment analysis by AroniSmartInvest In Action.
Analyzing Wal-Mart Stock Performance
With the performance, it is time to revisit the question asked then on why Wal-Mart momentum was coming. AroniSmartInvest will then revisit the prospects for the stock in the short term and next year. AroniSmartInvest in Action gives hints based on AroniSmart stock segmentation and sentiment analytics.

AroniSmartInvest In Action™ team has tried to look at the options, using AroniSmartInvest™ proprietary advanced analytics and machine learning algorithms combining stock segmentation and text and sentiment analytics (check the featured image to see Wal-Mart node in the AroniSmart network analytics). Stock segmentation in AroniSmartInvest™ combines both fundamentals and overall performance. Based on the results of segmentation, Wal-Mart stock has been, since last year, flagged among the stocks to watch.

The Segment in which Wal-Mart (WMT) stock has been classified includes the stocks with high EPS (earnings per share) and P/E (price-per earnings) ratios and a stable long term debt balance. Wal-Mart has currently P/E of around 25.95 and EPS of 4.44 similar to 4.5 in mid 2017. The prediction for 2020 is above $4.5. As predicted, it has distributed a quarterly dividend of $.51 in 2017 and $.52 in 2018 and $.53 in 2019
What Wal-Mart has been up to?
Faced with stiff competition mostly from e-commerce, especially Amazon, Wal-Mart has been fighting back, and the market is responding well.
Wal-Mart' acquired Jet.Com after paying $3.3 billions to shore up its online strategy and presence (see our article: Wal-Mart Walking in Amazon Footsteps by acquiring Jet.com?).
The strategy took time, given the niche segment targeted by Jet.com and probably the slow technology integration.As Wal-Mart continues to expand its options to fend off competition from Amazon and other on-line retailers and to leverage its online strategy, the rewards are expected to grow.

To strengthen its commitment to the online strategy, Wal-Mart has fully implemented its delivery program. Walmart launched its own delivery platform, known as Spark Delivery. With the program, store workers fulfill and deliver some orders placed on Walmart.com or Jet.com. Wal-Mart has also been expanding its online grocery delivery service, targeting most major metropolitan areas.

On July 17, 2018 Wal-Mart and Microsoft announced a five-year deal, under which Wal-Mart will boost the use of Microsoft's cloud services and help Wal-Mart to gain access to artificial intelligence and machine learning technologies to optimize energy consumption at stores and also help improve the delivery of on-line orders.
The agreement appeared to have greatly helped both Microsoft and Wal-Mart to take on their mutual strong competitor: Amazon.
Expanding Internationally
Walmart has bought Flipkart, the India's leading online retailer for $16 billion for a controlling stake of 77%. The deal boosted WalMart e-commerce capabilities both in US and in India.
Walmart in Mexico has launched grocery orders via WhatsApp, in June 2019.
Is Wal-Mart catching up with Amazon?
Hence, it is clear that Wal-Mart has become very serious in challenging Amazon and took meaningful steps to do so. These steps have shown its effects in the stock performance. The stock market has been positively responding to Wal-Mart efforts since 2017. The new steps taken brought Wal-Mart closer to face Amazon challenge with assurance. However, Amazon has a market valuation of $1833B vs $324B for Wal-Mart. Hence, to match Amazon, Wal-Mart will need to continue to grow its stock value close to 6 times. Will the steps taken help Wal-Mart to do it in the next few years? Walmart appears to be on the right path. However, the progress will depend on the performance of both the US and World economy.

Disclaimer: AroniSoft LLC or its associates may own Wal-Mart(WMT) stock. Also read AroniSmart and AroniSoft LLc terms here.
Last modified on
Trackback URL for this blog entry.